In the following tutorials, we will show you how to become familiar with the feed network in ARIS Cloud. As a first step towards that aim, we will show you how to edit your feed profile and upload or change your feed profile picture.
Important note:
You have two user profiles in ARIS Cloud:
a general one which is linked to your log-in user and
a more specific one which is used for collaborative aspects like feeds and comments. You can use a different picture for each profile.
Open ariscloud.com in your browser, select My ARIS Cloud, and log in with your personal login data to open your project room and click Launch to open the product:
Step I: On the Portal view, click Collaboration to open your 'My feed' overview page.
 
Step II: Click on your name in the overview page header on the left side.
Step III: Click Edit profile on the right to modify your feed profile:
Step IV: If you want to add or to change a profile picture, click on browse.
Step V: Select your favorite photo and click on Upload.
Note: When finished, your selected photo will be displayed in your feed profile.
Step VI: You have to specify a title for your new feed profile in the field below.
Note: That title will appear below your photo on your (feed) profile page.
Step VII: You can also enter a brief description of your job responsibilities.
Note: Providing this description is optional.
Step VIII: You can fill in some keywords that describe your work experience or your skills and enter your telephone number to improve your feed profile.
Step IX: In the final section of your feed profile, you can set two parameters for your feed moderation.
Note: The checkboxes are enabled by default.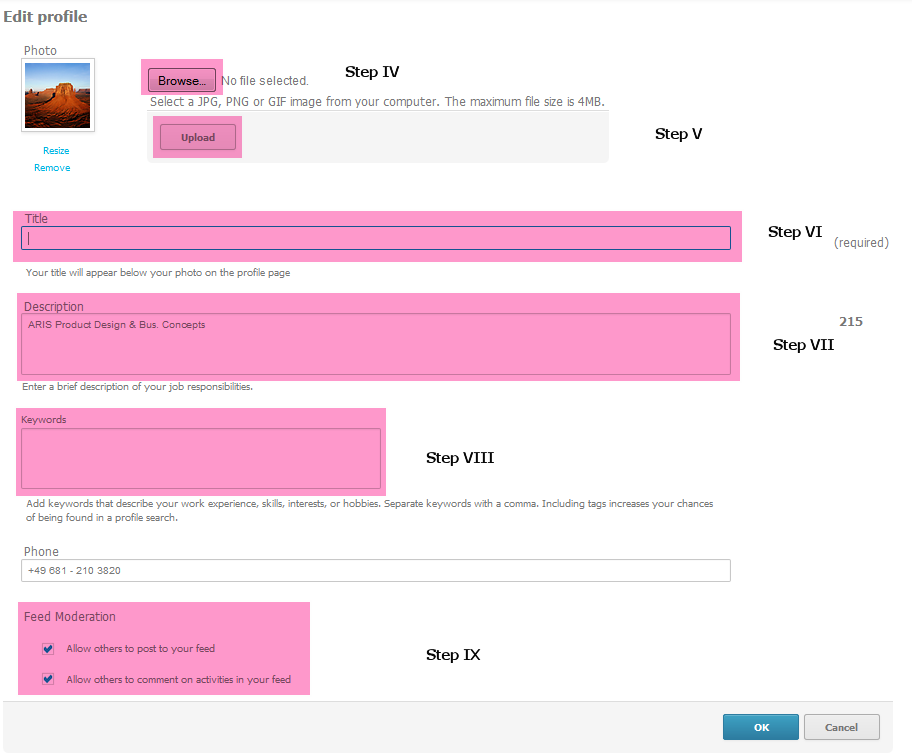 Step X: To conclude, click Save to store your changes or Cancel to abort.

Now you know how to edit your feed profile in ARIS Cloud. In the next tutorial, we will show you how to create a user group.