Here comes the last article about the new features in ARIS Cloud 9.8.
A new panel informs on future maintenance windows after log in. The new info page is available for the Basic and the Advanced Editions.
ARIS Cloud Advanced now supports user groups that make it easy to, e. g., assign access privileges.
In the following I describe how you can easily create a new user group and then assign access privileges to this group.
First navigate to the 'User management' area of your project room.
Then go to the tab 'User Groups' and create an new user group.
After you created your new user group successfully, you can associate users.
Just click the checkbox of the users you want to assign and click 'add'.
After that, you can assign access privileges for models and model groups to this user group over the ARIS Cloud Administration.
After you opened the Administration navigate to your user group and double click to open.
When the window opens, select, e. g., "Read + Write + Delete (rwd-)" privileges for the 'Main group'. Then click 'ok'. The users assigned to your user group can now read, write and delete in all folders of the Main group.
Access privileges for folders in the ARIS document storage can be assigned in the Documents tab via your project room. In the following, I'll show you an example for a test folder.
First enter your project room and navigate to 'Repository'. Then go to the 'Documents' tab and create a new folder. Than open the properties of this folder over the small arrow.
When the window opens navigate to the tab 'Access privileges'.

Click the 'Change user group association' item to select and add user groups.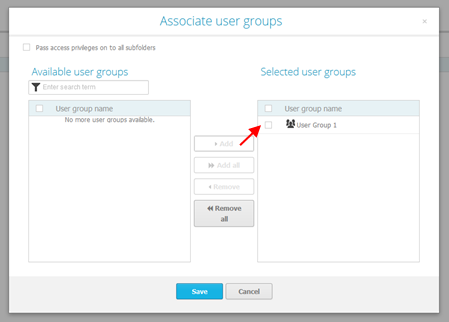 The associated user group can now access the test folder.
A further enhancement of version 9.8 is the support of multi-language requirements in the cloud management environment.
Enjoy the new features of ARIS Cloud 9.8!
Elke