Introduction
Industry 4.0 originally was used for manufacturing (smart factory), The term was introduced during the Hanover Messe in 2011. During the years, the scope of industry 4.0 has been extended with smart logistics, smart transportation, smart buildings, smart grids and smart cities.
Industry 4.0 is disrupting relationships across manufacturers, customers, and suppliers. Companies are adding sensors to machines and products, making "smart" things able to receive and share real-time information. Everything will be connected: every asset, material, supplier, employee, warehouse, truck and customer. 
This brings the customer data into the product value chain. Tightly integrated ecosystems of companies will be working together to provide optimal value to customers, this will redefine what a product or service is and the value it provides to customers.
As more products incorporate digital technologies, products will become data platforms for value creation. This requires that the enterprise architecture maintains standards for digital technologies, application interfaces, cloud platforms and predictive analytics.
Status industry 4.0 project portfolio
Many companies start independent industry 4.0 projects, like IoT, digital twin, predictive maintenance or smart factory. Because of the many parallel innovation projects, the need arises for a digital innovation competence center (DICC) which orchestrates all innovation projects.
Every innovation project has an impact on the business and operating model. Many companies will change to more service / operational oriented business models which has consequences for all business processes.
This raises the need for an industry 4.0 business transformation roadmap with an agreed enterprise architecture. This industry 4.0 roadmap should be supported by all stakeholders and will have a major impact on all roles and responsibilities within the organization.
The following picture gives an overview of a possible industry 4.0 project portfolio from the shop floor to the top floor and from the customer to the supplier. The enterprise architecture should align the operating model with the scope of the projects, business processes, (cloud) ERP applications, digital technologies (like connected assets) and integration platforms.
The VNSG focus group ADM is organizing a meeting to better understand the concepts and impact of industry 4.0 and discuss the status of industry 4.0 within different companies. The agenda of the VNSG ADM focusgroup is the following;
1       Introduction of Industry 4.0 
Presenter; Jurjen Lengkeek (RDM makerspace)
RDM makerspace provides manufacturing services, education, training, organizes business events and is located at the old docks of the Rotterdamsche Droogdok Maatschappij (RDM). Business and students work here together on innovative solutions for buildings, mobility and energy under the motto; research, design & manufacturing. RDM makerspace offers the service to use their facilities and machines to business and citizens. The designs can be made on CAD applications and then created on manufacturing machines, to give everybody the opportunity to explore the capabilities of the industrial revolution of digital manufacturing.
2       Industry 4.0 what is next?
Presenter; Mark Roepers (SAP)
A new SAP whitepaper, Industry 4.0: What's Next, looks ahead to Industry 5.0, where further restructuring of product development and production will redefine not only manufacturing processes, but also what a product is and the value it provides. Industry 4.0 (– made possible by an increasingly connected ecosystem, new technologies, and shifts in customer mind-sets –) can bring the customers of products into the product value chain. Customers are clearly changing their attitudes about sharing previously "private" information with trusted companies they do business with – especially if they get something valuable in return – and this is enabling a heightened level of customer empathy that can transform the product value chains
3       Status of industry 4.0 manufacturing
Presenter; Jilt Bakkes (Quincept)
Off shoring of manufacturing to low wages countries is not useful anymore because of smart factories and robotics. In the coming years the manufacturing and the supply chain processes will change drastically. What is and will be the impact of the changed supply chain processes within Dutch companies ?
4       From products to services (servitization)
Presenter; Hans Houmes (PAconsulting)
Manufacturers in the industrial engineering sector are moving away from selling physical products towards providing value-adding services based on their products' core capabilities. This trend is giving rise to a new type of business model where companies are paid for the output or outcome they deliver for their customers, rather than for the physical products themselves. This is servitization. What our research seeks to understand is why companies are moving in this direction. Do servitized offerings deliver better financial rewards? Do they enhance companies' competitive position? And what does it take to get servitization right?
5       Impact of Industry 4.0 on the enterprise architecture
Presenter; Frank Luyckx
Many companies are starting digital innovation projects managed by business leaders. The innovation projects are not always aligned with the existing enterprise architecture and this can cause integration issues during the project and application life-cycle. With the increasing complexity of the hybrid on-premises and cloud landscape and integration of disruptive technologies (like IoT, 3D printing), an enterprise architecture framework is essential to maintain the agility of the digital innovation projects. The 9 domains of the ADM EA framework can be used to manage the potential impact of the disruptive technologies. The following picture gives an overview of the ADM EA framework;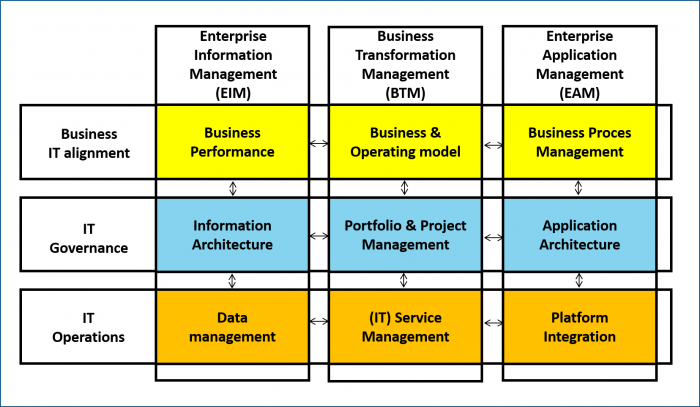 More information on how the Enterprise Architecture can support digital business transformation can be found at; https://www.linkedin.com/pulse/how-can-enterprise-architecture-support-digital-business-frank-luyckx/
Thank you for reading my post and "like it if you like it". 
If you would like to read my future posts then please click 'Follow' and feel free to also connect via linked-in or Slide-share. 
You can also go to; Previous Blog => Next Blog